Shopping Cart
Your Cart is Empty
There was an error with PayPal
Click here to try again
Thank you for your business!
You should be receiving an order confirmation from Paypal shortly.
Exit Shopping Cart
| | |
| --- | --- |
| Posted on August 1, 2020 at 10:10 AM | |
Good Morning Ginchers,
Welcome to No School Saturday ... and, a trip to Harry's Hobby Shop!  When one says Hobby Shop today it has a different meaning than when I grew up.  Today it's a trip to the Mall or giant building on a major highway somewhere in suburbia U.S.A.  It is now a Craft/Hobby shop where you can get anything from fake plants to jewelry making kits to models and they have private rooms where one can get lessons on how to craft or assemble something.  Let's go back to my old neighborhood and I'm sure it is similar to a lot of city neighborhoods from the 50's and 60's.  I lived on Smithton Street on the Northside of Pittsburgh and it was about a mile walk, including a hike up one of the steepest hills on the northside (Schimmer Street), to Shadeline Avenue and Harry's Hobby Shop.  This trip was a double great experience because Carl's Pizza Den was right next door.  It was like a Saturday ritual for us guys living on Smithton Street.  We would save our pop bottle money or our extra money from our paper route and after watching our favorite cartoons on TV we would make the trip to Harry's.  It was a rather small store but packed from floor to ceiling with models and HO soldiers and cars and planes and Ed "Big Daddy" Roth images and Revell Monster models and ... and ... whew, got carried away for a minute.  Back then a kid could buy a tube of glue for a dime and a model for under two bucks and then save up for some paint for next weeks project of painting your model.  A few years later there was a halt on buying glue and you had to have an adult with you to buy it ... someone told me bad kids were putting it in a bag and sniffing it ... now who came up with that great idea?  I was partial to collecting the Revell Monster Models and a big fan of Ed "Big Daddy" Roth and his weird creatures (that is a blog for another day).  I still have some of the models from that era at my Collectible store and I still get that little kid rush every time I look at them.  Today I wish I could take the walk to Harry's Hobby Shop but as most of the great things I remember from childhood, it is no longer there and bigger and better stores with neewer craft items are available ... OK, bigger but not better!  Till tomorrow, stay safe, stay healthy, help a neighbor when you can ... and, GOD Bless!
Johnny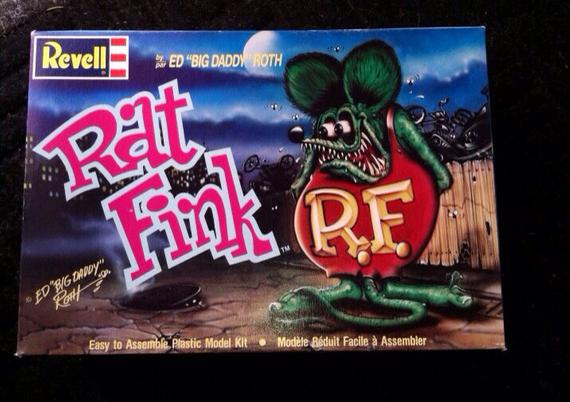 Categories: None
/